FOR SALE

(2) Liebert® Deluxe System 3 FH740C
Available now for sale or lease - (2) Liebert® Deluxe System 3 FH740C, 50 Ton, 60Hz, Chilled Water Systems. High performance, sensitive electronic equipment requires precise, reliable control of room temperature, humidity, and airflow for proper operation. The Liebert® Deluxe System/3 FH740C is specifically designed to handle the high heat loads generated by computers and other electronic equipment. These units are used to protect the most critical installations around the world. They feature a high sensible heat ratio, assuring that proper humidity levels will be maintained.
The Liebert® Deluxe System 3 FH740 provides a complete environmental control package, including both precision air conditioning as well as humidity control - no matter what the temperature is outside.
The combination of a high efficiency semi-hermetic compressors and options such as a variable-speed drive on the fan motor help the Liebert® Deluxe System/3 to deliver the highest levels of energy efficiency.
User-friendly Liebert® iCOM controls
50 Ton
Chilled Water
460V
Downflow
VFD Motor Control for high efficency
Dual Disconnects for increased reliability
122" W x 35 5/8" D x 76" H 1925lbs.

Download Specifications (PDF) >>
Downflow Configuration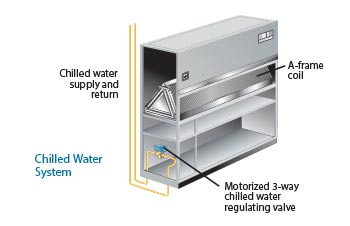 Chilled Water
Infrared Humidifier
A-Frame Coil